Yesterday Matt and I installed the best garage system we have ever done. This customer has worked with us on building some truly spectacular sound systems for the past 27 years. We have installed systems for him now in 5 homes. He has an uncompromising approach to everything he does and obviously loves his music. When he recently built this garage we had originally planned to do a much more "basic" system, but as usual we found ourselves getting carried away.
We have another client in Texas that has similar tastes and is constantly on the path of upgrading. He decided to trade-in his Krell amps and preamps which he purchased from us several years ago. I approached my client on buying these and he said "why not?". So now he has a system about 150 feet away from his main house with no neighbors in ear shot. This gives him a place to go and enjoy listening to his music and movies at any volume levels he wishes.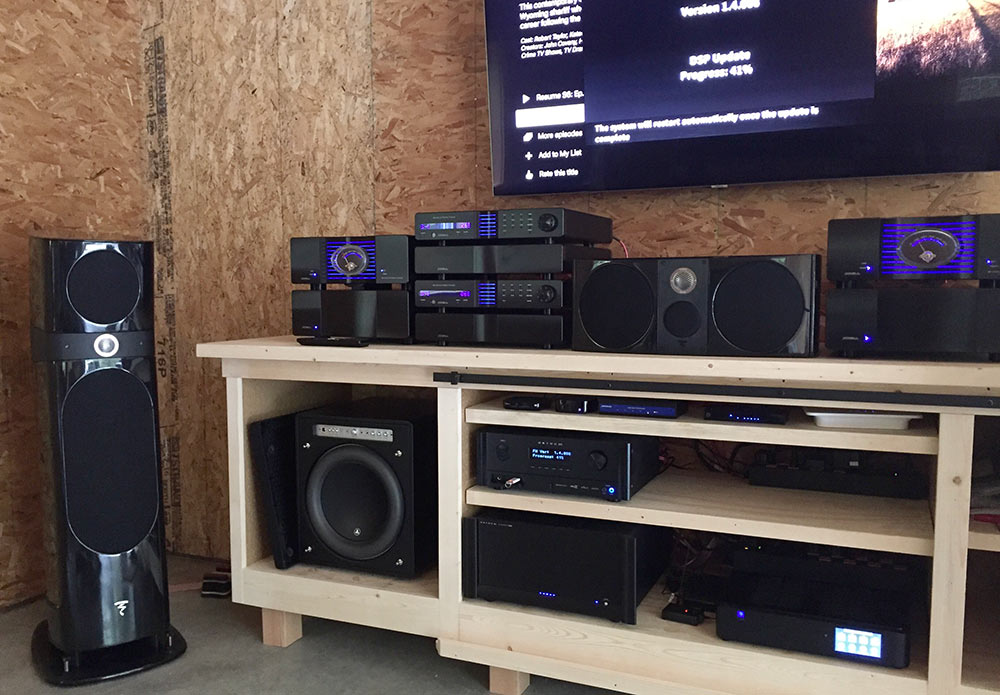 We are using a Meridian/Sooloos system for the music library. This is also tied to several rooms in his main house. For the movie processor we use the Anthem AVM 60. This ties in to a Anthem p5 amp and drives the the Focal Sopra center channel and surround speakers. So we are taking the main left and right channels out of the AVM 60 and sourcing them to the Krell dual mono preamps, which in turn source the big Krell amps and drive the main left and right stereo speakers. The Sooloos now provides an independent music source on a secondary input source to the Krell preamps. For the speaker system we are using a pair of Focal Sopra 3s, Sopra Center and surround speakers. For the subwoofer we employed one of our favorite bass buddies, a JL Audio F113 series 2.
The acoustics in the garage are very interesting to me. To look at the concrete floor and plywood walls you would not expect it to work that well. However when we fired it up for the first time, we all three couldn't quit grinning. I got a text this morning from my customer and he spent almost 3 hours playing some of his favorite tracks and confirms it is amazing. We have now decided to take it to the next level.
Stay tuned.