---
---
SPEAKERS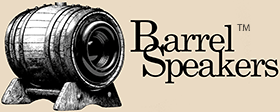 Barrel Speakers is a locally owned company and locally handcrafted product. Each Barrel Speakers unit is built to their exact specifications in their studio using some of the highest quality audio components on the market today. They listen to every speaker before it ships to ensure that the sound you hear is precisely what it's intended it to be. Visit the Barrel Speakers website.
---
Focal-JMlab is one of the world leaders of the High End acoustic loudspeakers. All Focal hifi drivers and acoustic loudspeakers are made according to the same quality standards to offer the best listening solution whatever the size or price. Their artisans have been building their products in France since 1979. With the Grande Utopia EM, Focal creates one of the best hifi speakers in the world. Visit the Focal website.
---

JL Audio is a U.S. company focused on delivering unique engineering, superior quality and high-performance audio to their customers around the world. Behind all their efforts is a strong belief that great audio has real value, and that their customers can 'tell the difference'. JL Audio builds many of their speakers right here in the USA since most of their premium loudspeakers incorporate proprietary, patented technologies that require unique assembly techniques. Visit the JL Audio website.
---

Niles' extensive loudspeaker line is guided by the simple concept of "Form Follows Function." Responding to suggestions, perceived problems and opportunities from dealers, installers, and end-users, Niles engineers design each speaker to deliver outstanding value and performance in a particular application.
Niles creates cabinet, in–wall, ceiling–mount and indoor/outdoor loudspeakers designed to satisfy even the most discriminating audiophile. Visit the Niles website.
---

Triad offers the most complete array of applications-based custom speaker solutions, designed for specific usage, and without compromise. They believe custom speakers should be the same high quality as the very best audiophile speakers, but they should blend unobtrusively into your environment.
95% of Triad speaker models are designed and manufactured in their modern facility in Portland, Oregon. Triad products are literally made fresh daily, your speakers are made for you, and they always represent the most current version. Triad uses the highest quality drivers and crossover components for the absolute best performance and value. Visit the Triad website.
---
TruAudio stays on the cutting edge of speaker technology and innovation. Their future-focused vision stems from their past. They previously owned a nationally recognized home electronics integration company. During this period, they designed and installed thousands of home theaters and multi-room audio systems. Backed with that knowledge and experience, they founded TruAudio to design and manufacture a full line of premium custom audio products. They go to great lengths to make sure that we offer speakers that blend into the room's decor while still delivering unforgettable, life-like sound. Visit the TruAudio website.
---
Brought to you by Denon, HEOS is a wireless music system that allows you to control all your music effortlessly from anywhere in your home. All you need is one or more HEOS speakers and the free app. Together or individually, these acoustically sculpted, stylish and powerful Wi-Fi speakers deliver pure, precise sound. Group them together to synchronize sound and create the front-row experience that only HEOS can deliver. Visit the HEOS website.
---
---
ELECTRONICS
For more than two decades, Anthem® has manufactured award-winning high-end audio/video equipment for music, home theater and distributed audio. Our products are used at all levels of music reproduction and sold internationally. Anthem® products allow you to virtually 'be there' every time you listen to a favorite piece of recorded music or experience the excitement of surround-sound home theater. Our reputation in analog and digital design is legendary and our products continue to receive industry awards and acclaim in the finest magazines. Around the world, Anthem is consistently the brand of choice for leaders in the field of music and entertainment. Visit the Anthem website.
---
Aesthetix designs and manufactures a full range of hi-fi tube products. Every unit is meticulously hand assembled by the talented Aesthetix factory technicians in Moorpark, California.
No Aesthetix product uses feedback, a method traditionally used to compensate for poor design or other anomalies. Aesthetix circuits are designed to measure well without the use of feedback, a difficult endeavor but the results of which are clearly audible.
Aesthetix designs, while primarily vacuum-tube, are technology agnostic. There is no "best" amplifying device; vacuum tubes, bipolar transistors and FETs all have their place and each can achieve stunning results if properly designed and manufactured. That being said, vacuum-tubes seem to be the best suited for voltage amplification of audio signals, delivering the most neutral, grain-free, full-bodied sound…if properly implemented. Aesthetix uses transistors and other technologies where appropriate; frequently in power supply regulators and power amplifier output stages. Visit the Aesthetix website.
---

Cambridge Audio is about making your music sound amazing. Every Cambridge Audio product is designed in London by a team obsessed with music. They put just as much effort into developing systems for the kitchen, or digital music accessories to enhance audio from your computer as they do with our award-winning hi-fi separates.
Every Cambridge Audio product is created from scratch in their London design centre where they custom develop every component and circuit to meet their own specific requirements. When it comes to really important components like transformers and CD transports, off-the-shelf parts won't make the grade. These key internal aspects of architecture are then carefully matched to a huge array of carefully selected ancillary components which are hand-selected by their team of engineers after evaluating all available options. This is a time-consuming process but every capacitor, transistor and piece of cable that goes into Cambridge Audio products plays its own part in the overall sound. Visit the Cambridge Audio website.
---
With over 40 years in business and 90+ offices worldwide, Crestron Electronics is the leading provider of control and automation systems for homes, offices, schools, hospitals, hotels and more. Crestron solutions are Integrated by Design™ to provide the ultimate technology lifestyle. No matter where you are, or what you do, with Crestron you're always connected. Visit the Crestron website.
---

Innovative engineering and technology are at the core of what makes a Denon product a Denon. Through a disciplined approach to design and production, their engineers ensure that only superb craftsmanship, precision engineering and impeccable performance goes into every component. Their solutions are often born through passionately studying examples from the widest array of imaginable fields – including physics, electronics, mechanical engineering, art and nature. Their constant quest to create the perfect entertainment component has given them invaluable inspiration for not only the most powerful technical solutions but also the most convenient features to satisfy a diverse set of entertainment needs. That is why they tirelessly transform creative ideas into leading innovations within their industry. Visit the Denon website.
---
Integra defines themselves as a company guided by passion and excellence. They make premium A/V components that enthusiasts love and the industry admires. Components that break new ground in high-end build quality, high-definition potential, system integration, and multi-zone expansion.
Their passion to set new audio component standards begins in the minds of their engineers and designers who are more than just good at what they do, they are fanatics. Integra provides them with the absolute finest parts and materials, the most sophisticated test and measurement equipment available and facilities that are second to none.
The end results are a company and a product line that has never had any intention of being the biggest. Just the best. Visit the Integra website.
---
For decades, Krell Industries has been designing and manufacturing high performance audio equipment for serious music enthusiasts and home theater aficionados. Since the introduction of the company's first product – the KSA-100 stereo amplifier, the Krell brand has stood for the uncompromising pursuit of perfection in audio reproduction.
Krell produces high-end audio products exclusively; it has never bent to market trends by producing low-quality products that are not in line with the company's mission. Krell designs all of its products and performs its core manufacturing in the company's Connecticut headquarters. Visit the Krell website.
---

In in the 1950's, Saul Marantz was dissatisfied with the audio equipment being produced at the time. His passion for the best sounding, high quality home entertainment led him to begin Marantz in his home basement. Always striving for the highest fidelity in audio equipment, Marantz is one of the premier names in the industry for all music enthusiasts. Marantz cares about the artist and the listener and that's why they create sound systems that let the listener hear music exactly the way the artist intended, "Because Music Matters."
Though Marantz started because of a passion for music, they have since expanded to incorporate video and audio players and hi-fi components to effectively create a complete home entertainment experience. Visit the Marantz website.
--- Bob Stuart and Allen Boothroyd met in Cambridge in the early 1970s through a shared love of music. The desire to better hear that music at home inspired them to design and create their own audio equipment.
With respective backgrounds in Psychoacoustics and Industrial Design, Bob and Allen's natural partnership is still at the heart of Meridian. The passion, innovation and commitment to quality that shaped the company carries them forward as one of the most revered audio brands in the world today.
We feature Meridian's Sooloos, a configurable, multi-component, whole-house streaming solution. Controlled from your iPad, iPhone or a dedicated touch panel, such as their award-winning Control 15, you can enjoy your music collection or favorite internet radio stations anywhere, any time at the touch of a button. Visit the Meridian website.
---

In keeping with its passion for application-specific design, Niles entered the amplifier category in 1994 with Systems Integration Amplifiers®, which provide the backbone in a multi–room/multi–source sound system. The industry's first 12–channel amplifiers, Systems Integration Amplifiers were a logical extension of Niles' expertise in developing six–room stereo speaker selectors that distribute a total of 12 audio channels. Visit the Niles website.
---
Pathos Acoustics was founded in 1994 by three Italian pioneers: Gaetano Zanini , Gianni Borinato and Paolo Andriolo in the Italian city of Vicenza where all Pathos products are handcrafted. Pathos was born in order to develop and to propagate a new amplification circuit called INPOL (Inseguitore a Pompa Lineare = Linear Pump Tracker). INPOL is proprietary to Pathos and the circuit holds a Worldwide Patent.
Pathos was founded in the knowledge that there is sufficient space for those who have something authentically new to propose in that exciting search for the maximum fidelity in the reproduction of music. Beyond their technical innovation, Pathos is known for the elegant design and high finish of their products. For many years it seemed to be the idea within the audio business – the uglier the product, the better the sound. Pathos proved them wrong. Visit the Pathos website.
---
Pakedge Device Software Inc. is a leading manufacturer of "high performance end-to-end networking platforms for residential and commerical A/V applications." They received the prestigious CEPro Brand Leader award for Networking in 2013 and 2014.
Pakedge offers high performance products, networking solutions, cloud management systems, and more. They specialize in developing technology that always keeps their customers ahead of the curve. Visit the Pakedge website.
---
Peachtree Audio introduced its first product, the groundbreaking Decco amplifier, in 2007. The Decco was the world's first integrated amplifier to feature a USB input, allowing its onboard digital-to-analog converter to process music files directly from a computer. Peachtree Audio is committed to "continuing the tradition of totally new." Visit the Peachtree Audio website.
---
PS Audio has been a purveyor of hand-crafted, high-end home music reproduction systems for the last 40 years. They provide affordable, quality systems for people that care about hearing the highest quality sound. Their systems are engineered and built by people that care about lifestyle, music, the environment, quality, and fairness because "Music is what they do." new." Visit the PS Audio website.
---
Tivoli Audio was created for one purpose – to bring beautifully designed, simple-to-use, high quality audio products to consumers at a fair price. The company was founded by Tom DeVesto, a highly respected innovator in the audio industry. Their products represent a level of sound quality and fit and finish which is unequalled in their price range. Every Tivoli Audio product is manufactured in their own factory, which affords them exceptional quality control. Words cannot fully convey the experience of living with – and listening to – one of their radios. Visit the Tivoli Audio website.
---
---
ANALOG TURNTABLES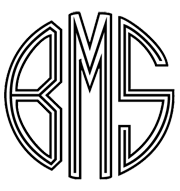 Benz Micro of Switzerland is a world famous manufacturer of phono cartridges, known for precision, perfection, reliability and durability. Albert Lukaschek of Benz Micro designs solid phono cartridges that are among the very best in the world, constantly striving for the optimum: proper tonality, and a realistic overall musical presentation. Whether you seek a good-sounding budget cartridge with a usefully high output or a state-of-the-art low output design, Benz Micro has a high-value option for you. Discover the essence of the music with a perfect pickup. Visit the BMS website.
---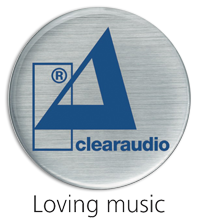 Every single one of Clearaudio's wide and ever-growing range of products, from the smallest connector to the most complex turntable, incorporates two key characteristics: innovation and quality.
At Clearaudio, innovation happens at many different levels. Ongoing technological invention. Constantly striving for more intelligent use of materials. Developing new processes that enable them to achieve what hasn't been achievable before. They don't look to see what other companies are doing. They look to see what's still possible, what's just beyond their current reach – and that's where they set our sights.
Quality means excellence in design, engineering, craftsmanship and using only the best materials. To ensure Clearaudio achieves this level of quality every time, all of their products are hand-built in their own factory in Erlangen, Germany. In fact almost every part that goes into a Clearaudio product is made in-house.
Clearaudio is very proud of their team of highly qualified designers, engineers and precision mechanics, as well as their own in-house production methods which enable them to reproduce a consistently high level of quality across their full product range, from cartridges to record cleaning machines. Find out more about Clearaudio.
---

Grado, one of the oldest family owned companies in the Audio Industry, has been a leader in design engineering for the high-end audio and recording industries.
Grado is famous for their remarkable headphone and phono cartridge designs and hold over 48 patents. Company founder, Joseph Grado is credited as the inventor of the stereo moving coil phono cartridge. He is responsible for more innovations in phono cartridge design than any other person in our lifetime and was inducted into the Audio Hall of Fame in 1982.
Time honored manufacturing know-how and painstaking attention to design detail allows previously unobtained levels of pitch control, harmonic accuracy and bass quality to be achieved. All Grado headphones and cartridges are hand made to Grado's full performance specifications… nothing leaves the factory unless it sounds pure Grado. Visit the Grado website.
---
---
VIDEO PRODUCTS

Whether on disc or as a digital download from the Kaleidescape Movie Store, Kaleidescape brings together all your movies in a visually stunning library making it beautifully simple to access and enjoy movies that truly matter to you. When you're in the mood for something new, our Store offers thousands of titles—with new movies available in the highest quality often weeks before they become available on disc.
Kaleidescape gives you the freedom to enjoy movies from a variety of sources. Whether purchased on disc, downloaded from the Kaleidescape Movie Store, or a third party UltraViolet™ retailer, Kaleidescape supports all formats and brings them together in a single library. Kaleidescape Digital Offers will allow you to easily convert many of your discs into digital downloads from the Kaleidescape Movie Store, so you can enjoy your movies at home—or on the go with your mobile devices—without needing the disc again. Visit the Kaleidescape website.
---

For more than 50 years, Panasonic Corporation of North America has delighted American consumers with innovations for the home and business. Panasonic operations in North America include R&D Centers, manufacturing bases and the highly rated Panasonic Customer Call Center in Chesapeake, VA. Panasonic has made understanding how its products can impact people's lives a core focus for product development and refinement. "Ideas For Life" is a reflection of that commitment and a guiding force for what can be expected from Panasonic in the future.
Panasonic's consumer electronics and technology has created the award-winning VIERA High Definition Plasma and LCD TVs. Panasonic Smart VIERA TVs combine advanced Smart TV functions, such as Swipe & Share, with easy operation, high picture quality, eco friendliness and stylish design. VIERA offers the best possible picture quality for all available sources. By optimizing each device, it achieves rich, robust blacks, high moving picture resolution, smooth gradation, and vibrant colors. VIERA's stunning images bring a special ambience to the living room. Visit the Panasonic TV website.
---

JVC Procision video projectors use the JVC technology – D-ILA or Direct-Drive Image Light Amplification. D-ILA technology delivers unmatched performance, with natural color reproduction, an image so smooth that it rivals film, and contrast that does justice to the most demanding program material.
D-ILA is liquid crystal technology, but it's very different from the liquid crystal display (LCD) technology found in many products today. D-ILA is what's called liquid crystal on silicon, or LCOS, but JVC made several improvements to basic LCOS technology to develop D-ILA. At its heart is the D-ILA device, or chip, designed and manufactured by JVC. Every JVC D-ILA projector uses three D-ILA devices, one each for red, green and blue – the three colors that are combined to create the full color palette. Visit the JVC Procision website.
---

Samsung Electric Industries was established as a subsidiary of Samsung Group in 1969. It has been the world's largest television manufacturer since 2006 and the world's largest maker of LCD panels for eight consecutive years.
Samsung's new Smart TV gives you the freedom to easily access, navigate and control your favorite shows, movies, streaming content, social networks, apps and more so you can enjoy everything you love in one place.
Take control with Smart Voice Interaction. Your voice is all you need to power on your Smart TV, navigate menus and find your favorite movies, shows and more. Just use natural language and Smart TV does the rest. Looking for something to watch? Just use natural language to speak into your Smart Touch Control. S Recommendation will search live TV, movies and streaming services to help you find something good to watch. Visit the Samsung TV website.
---
Screen Innovations (SI) is a leading manufacturer of projection screens and associated technologies for residential and commercial applications. Best known for Black Diamond™, the world's first and only multi-directional ambient light rejection projection screen technology, SI has effectively revolutionized the two-piece projection category by producing screens that deliver unparalleled images in light or dark environments.
A highly innovative, industry-specific Screen Innovations design and engineering team works tirelessly, constantly evolving the category in order to effectively bring projection to the mainstream. By operating under the principle that "No matter the budget; Screen Innovations has the best available screen solution to suit your needs," SI aims to resolve the issues that have historically hamstrung the projection screen industry. Visit the Screen Innovations website.
---

Sony Electronics is the U.S. sales and marketing arm of Sony's global electronics business. Operations include research and development, design, engineering, sales, marketing, distribution and customer service. Sony has played a key role in the development of Blu-ray Disc™, CD, DVD and Super Audio CD technologies, among many others.
Sony 4K Ultra HD Technology – Four times clearer than HD. Sony is leading the way in 4K technology. Sony started the 4K revolution in 2001 with the introduction of the very first commercial 4K digital projectors and is the only manufacturer with products and services throughout the 4K eco-system including 4K professional cameras, recorders, monitors, digital front projectors for the home, and now a full line-up of 4K Ultra HD TVs. See more on TV than ever before with over 8 million individual pixels (3,840 x 2,160) compared to about 2 million (1,920 x 1,080) on your current HDTV1. Advanced picture processing also ensures that each of those pixels displays images with superb brightness and authentic detail. It's the highest resolution picture Sony has ever produced on a TV.
Sony TVs offer more brilliant color than ever before. Spoil yourself with the widest color spectrum they've ever offered on a television. Unique to Sony, TRILUMINOS Display technology creates incredibly true, natural shades of colors. Visit the Sony TV website.
---

Stewart Filmscreen Corp is recognized as the "benchmark" manufacturer of projection screens worldwide. A family-owned business since 1947, Stewart maintains the highest standards in screen design, craftsmanship, and customer service. Stewart Filmscreen continues to design and manufacture innovative screen products for the residential, professional, and commercial markets, bringing the same quality and innovation to all viewing environments.
Stewart Filmscreen has a staff of expert product specialists ready to accommodate your most complex screen designs. They specialize in making custom screens designed to fit your specifications. You are never restricted or limited to "off-the-shelf" styles or sizes. Visit the Stewart Filmscreen website.
---
---
CABLE & RACKS

AZINDUS offers a high-quality, technically-superior rack mounting system for your audio-video components. One of the primary goals of AZINDUS is to combine value, functionality and engineering with simple elegance in an audio and video stand system.
With the AZINDUS System, you'll be able to see your audio or video components – rather than the cabinetry or shelving that is so common
in other equipment stands currently available in the marketplace. AZINDUS stands are unique in design and in function. They utilize an adjustable pad mounting plat-form which allows the stands to be "shelf-less". Value, quality, strength, durability, functionality – are all attributes of the AZINDUS system. The stands easily support components from all manufacturers. Visit the AZINDUS website.
---

Billy Bags has been designing and manufacturing some of the world's most dynamic and interesting audio/video furniture since 1988. Improving overall sound quality and interaction between components is a main consideration in their designs.
Billy Bags Pro-Stand audio/video equipment furniture does much more than give you an attractive place to hold your components. These designs will improve equipment performance in ways you can see and hear. their racks have in common non-resonant composite wood-laminate shelves, rigid steel frames, optional isolation tipped legs and leg vibration dampers. Visit the Billy Bags website.
---

Since 1987, Cardas Audio has manufactured premium audio cables and component parts. George Cardas founded the company to perfect audio cables. Using ultra-pure materials, innovative Golden ratio resonance control techniques and uniquely insightful solutions to transmission line problems.
The legendary connections and craftsmanship at Cardas reflect George's pursuit of perfection. Visit the Cardas Audio website.
---

Founded in 1991, Nordost Corporation is a high-technology cable manufacturer specializing in the audio and medical fields, using precision conductor solutions first developed for the aerospace industry and in conjunction with NASA for the space shuttle program. This grounding in the mission critical fields of space flight and micro-surgery have afforded the company an enviable research budget and an unprecedented degree of manufacturing accuracy and consistency.
The Cable that moved Nordost into the audio high-end was SPM. An acronym for Speed, Precision and Musicality, SPM was launched in 1997. A purpose designed audio cable that combined flat form with dimensionally optimized, silver-plated round section copper conductors, it quickly established itself as the cable to beat, becoming a worldwide reference amongst reviewers and audiophiles alike. In 2007 Nordost shocked the audio world by introducing a new flagship product, Odin. Using dual micro mono-filament technology throughout, but combined in the interconnects and power cords with a revolutionary new screen of unprecedented performance, never has the company produced a cable of such complexity or demanding such manufacturing precision. But then never has a cable delivered the performance of Odin!Nordost Corporation is dedicated to the application of technology to the pursuit of audio excellence. Nordost really is making the connection. Visit the Nordost website.
---

Liberty AV Solutions, a division of WESCO International, Inc., is recognized as a leading supplier of audio visual integration products, including bulk wire and cable, equipment enclosures and mounts, power distribution products, industry leading digital solutions and much more. Liberty is headquartered in Colorado Springs, Colorado, and operates offices in Colorado, Arizona, North Carolina, Wisconsin and Europe. Liberty remains focused on customer service and education while continuing to provide the broadest range of professional AV products available. Liberty's three main brands are Liberty Wire & Cable, Intelix Analog & Digital Devices, and PanelCrafters Custom Plates & Panels. Visit the Liberty AV Solutions website.
---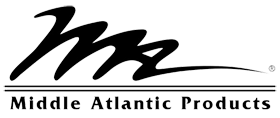 Middle Atlantic Products is part of the Commercial AV division of Legrand, North America, and manufactures exceptional support and protection products to mount integrated AV systems in Residential, Commercial, Broadcast, and Security applications. All of their products are engineered to maximize system reliability.
Middle Atlantic's technical prowess includes manufacturing capabilities such as laser-fabrication cells which produce smooth edges that are friendly to both cables and contractors hands and arms, automated forming lines, robots and high-speed turret presses that provide quick throughput to allow us to ship from stock. Their extensive selection of products includes steel rack enclosures, monitoring consoles, cable management products, audio and video studio and technical furniture, power distribution products, cooling products, and related accessories. Exact Power, the new power products division of Middle Atlantic, provides power protection, distribution and conditioning solutions optimized for AV installations in residential and commercial settings. Visit the Liberty Middle Atlantic Products website.
---
---
ACCESSORIES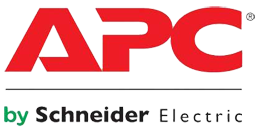 American Power Conversion provides protection against many of the primary causes of data loss, hardware damage and downtime. Founded in 1981, APC is a leading provider of global, end-to-end AC and DC-based back-up power products and services, which include surge suppressors, uninterruptible power supplies (UPS), power conditioning equipment, power management software, and DC power systems as well as precision cooling equipment, and professional and consulting svervices for Nonstop Networking™. APC, known for Legendary Reliability™, sets the standard for quality, innovation and support for power protection solutions from desktop systems to data center operations to entire facilities. Its comprehensive solutions, which are designed for both home and corporate environments, improve the manageability, availability and performance of sensitive electronic, network, communication and industrial equipment of all sizes. Visit the APC website.
---

Audyssey is a Los Angeles-based company that designs and develops innovative audio technologies and products for music fanatics and movie buffs like you. Their roots are in R&D and they solve audio problems so what you hear is an accurate reproduction of the recorded music, movie or live performance you are listening to – how it was meant to be heard.
Audyssey's digital technologies solve some basic audio problems, such as spikes in volume or poor sound quality at low volumes. They also delve into more complex audio problems, such as the way room acoustics are impacted by furniture, walls and windows, and how to compensate for small speakers when limited by the laws of physics.
Audyssey speakers are adaptable to content and to their environment. They've learned how to use science to control sound capabilities in the moment, nearly instantaneously. Audyssey's suite of technologies live in your speaker, constantly changing and expanding its performance. Now small speakers can produce deep bass without distortions and retain unheard-of sound quality. Visit the Audyssey website.
---

Chief is a division of Milestone AV Technologies, a Duchossois Group Company. With over 30 years of proven product and service excellence, hundreds of product awards and patented designs, they are globally recognized as an AV industry leader. They design state-of-the-art mount and rack solutions that complement the technology they support. They are committed to delivering high-quality products that are easy to install and maintain.
Chief offers a variety of AV solutions including TV Mounts, Monitor Mounts, Tablets, Projector Mounts, Racks and Interactive Mounts
Chief made its mark in the industry by producing the original projector mount roll, pitch and yaw adjustments in 1978, making registration quick and easy. We continue to break new ground with new products and unique, patented features that focus on ease of installation and flexibility for the professional installer. Visit the Chief website.
---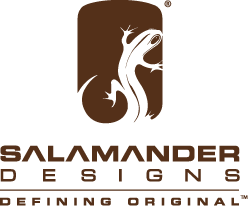 For nearly 20 years, Salamander Designs® has been "Defining Original" in audio/video furniture. Their design philosophy encompasses a systems approach that fuses visual design, functional engineering, and advanced manufacturing processes to yield high quality results. Finished cabinets are built to order in the USA.
Throughout Salamander's history they have designed highly flexible and customizable furniture solutions intended to offer a huge number of choices in materials, finishes, colors, fabrics, and performance options. By integrating such a high level of customization throughout their product line, instead of "one-size-fits-all" everyone gets exactly what fits them.
All Salamander Designs furniture products are made from sustainable materials that will stand the test of time. Their woods are harvested from managed forestry programs, their composite materials comply with rigorous certification and air quality standards, their furniture frames are made from energy-efficient recycled aluminum. Visit the Salamander Designs website.
---

SANUS is a division of Milestone AV Technologies, a Duchossois Group Company. Sanus focuses on residential AV furniture, stands and mounts. Through the Sanus brand, we offer more than 300 models of home theater units, TV stands, wall mounts, audio racks and speaker supports to match any AV system or environment. Their high-test, acoustically superior creations are designed for style and engineered to perform. Visit the Sanus website.
---

Quantum Resonant Technology was originally established in 1997 to investigate the application of Scalar field effects in the medical and electronics fields. The first audio related magnetic field stabilizers appeared in 1999, rapidly gaining significant critical acclaim and sales success, particularly in the high-end AV market where the dramatic impact of these devices on display quality was quickly appreciated.
Today's QRT products are much more powerful developments of those original devices, specifically developed to optimize power supply quality and distribution within high-end audio and video systems, as well as the medical imaging field. Again, the response from reviewers and customers alike has been overwhelmingly positive, the Qx2 and Qx4 quickly becoming must-have upgrades for all serious listeners. The new modular product architecture means that multiple units can be applied, additional Quantum products added as required or time and opportunity allows. With design and development still based in California, the Company's products are now distributed worldwide by Nordost Corporation of Framingham, MA. Visit the Quantum Resonant Technology website.
---

URC is the pioneer in Control Technology. Founded in 1991 and headquartered in Harrison, N.Y., URC has been setting the standard for simple, universal handheld controls with over 100 million consumers worldwide. Today, the Company provides state-of-the-art remote controls and complete home control and automation systems to residential and commercial clients, including some of the world's most respected consumer electronics brands. An experienced leader in high-quality control design, engineering, manufacture and distribution, URC is widely regarded as an innovative controller manufacturer by consumers, subscription broadcast providers, retailers, custom installers and OEM partners. URC has built its reputation by delivering exceptional levels of quality, training, reliability and support to its customers. Visit the URC website.
---

Based in Lisbon, Portugal, Vicoustic is currently establishing itself as one of the most dynamic companies in the acoustic solutions industry. The research-based manufacturer offers a range of innovative products and services, representing the outcome of years of development, testing and optimization. Vicoustic's engineers work in strategic partnership with other industry sectors, including science institutes and universities, as well as gaining regular feedback from some of Europe's leading acoustic engineers.
Vicoustic's wall panels provide flexible and elegant solutions for sound control. Their flagship Wave Wood panel has been specifically developed to treat acoustic problems without destroying a room's ambience, or over-deadening the sound. Its elegant visual appearance makes it highly suitable for use in sophisticated listening spaces such as hi-fi rooms and home cinemas. Visit the Vicoustic website.
---