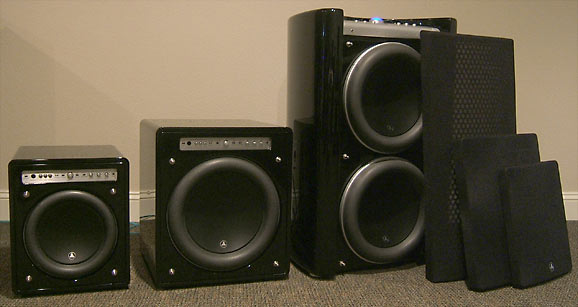 The most important, but often the most difficult thing to accomplish in an audio/video system is to get the bass right. When this happens the full range of your entire sonic presentation benefits. You realize what excellent sound from top to bottom is supposed to feel like.  To accomplish this, you need to install a highly efficient subwoofer. JL Audio, a US manufacturer, makes what we feel are the finest subwoofers on the planet.  JL Audio creates their products with uncompromised quality in every facet of design and construction — from the beautifully finished robust cabinet, to the woofer itself and the seriously over-engineered amplification and equalization system. Every detail from start to finish is controlled by the passionate team at JL Audio. Today, most subwoofer manufacturers build for a price range, whereas JL Audio builds for a quality range.
Matthew was recently invited by JL Audio to take their factory tour in Florida and came away with a total respect for every aspect of their company.
Subwoofers can have different room locations.  Some people prefer to hide them underneath an end table or in a corner of the room.  Where you place the subwoofer makes a difference in how it performs.  JL Audio has developed a proprietary equalization system that allows for seamless tuning not just to the room but also to the main speakers. This system includes a high-quality microphone designed to be placed where the listener will be sitting. Just pushing the button on the front of the subwoofer starts the self calibration.  It will output the lowest frequency to upper mid-bass response and measure exactly what's happening in the room. The subwoofer's electronics automatically equalize to eliminate any problems with unwanted vibrations and interactions.  You get a nice, natural presentation of bass through the room that feels exactly right. You no longer have the feeling there is a subwoofer in the room, as it seamlessly blends creating the auditory effect the engineers at JL crafted.
JL Audio subwoofers are a very exciting product line for us as we've literally installed hundreds of them. We focus primarily on three subwoofers, the fairly small in stature Fathom 110, the mid-sized Fathom 113, and the burly Gotham.  In any audio/video system installation, we're able to find a really nice fit for our customers. All of our clients think their JL Audio subwoofer is one of the neatest things they've ever purchased.