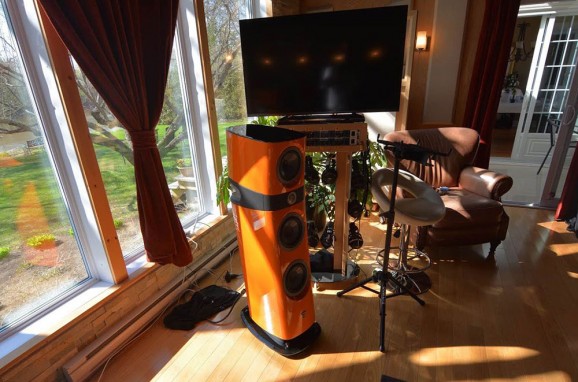 I recently had the pleasure to visit my good friends at  Audioplus Services located in Montreal. Audioplus is the North America importer for Focal and several other European brands of high end audio. It is owned by my good friend and mentor Daniel Jacques.
I was among 15 Audio dealers invited from all over the country for the debut of this new series from Focal called Sopra n°2. The location for this presentation was at located les studios Opus outside of Montreal which is definitely a most beautiful place to listen and, I am sure, record music.
Before going into the studio, we had to hand over our cell phones as no photos were allowed and everyone signed a non-disclosure agreement. At this time no one in the world, other than the people at Focal, had seen or listened to this new line called Sopra n°2.
We were treated to a very special presentation given by Focal's international sales manager John Philippe Fountain. He explained in detail several new technologies Focal has been working on for the past several years. They are now using proprietary software developed by Focal. They are adapting software from other engineering areas including software used to build skyscrapers that measure things such as resistance to earthquakes and wind shear.
During this in-depth technical explanation, it was evident that Focal is pushing  
even further the limits of speaker design. They are now able to understand
and actually see problems that were previously guessed at by not just Focal but all high end speaker manufacturers.
After the technical presentation, JP played several tracks from all genres of music. Some of these tracks I have used myself several times over the years. What struck me was how I was able to hear more clearly what seemed like an even more detailed 3 dimensional sensation.
These speakers are beautiful to look at, especially in person, but this design goes way beyond aesthetics and shape. In terms of purity, precision and harmonic richness I honestly can say I've never heard a loudspeaker do a better job.Every dealer in the room including myself couldn't get their checkbooks out fast enough. I believe Sopra n°2 will most likely be their most successful higher end product in Focal's history.
Please give us a call to set up a demo. I invite you to bring along one or more of your favorite recordings so you can hear Sopra n°2 for yourself. By the way Sopra is Latin for Superior.