This week we are putting the finishing touches on a new Bainbridge Island waterfront home. The vision of the home owners and designers demanded an aesthetically minimalistic approach to all the audio/video components throughout the house. Fortunately for us we have the perfect products to accomplish this task.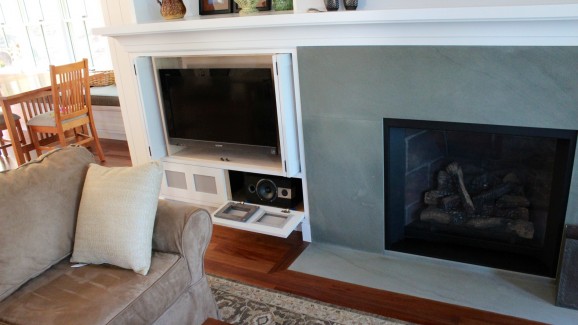 In the main entertainment room, also serving as the living living room, the  transitional-style, custom cabinet houses the flat screen TV. While not in use it is concealed behind cabinet doors and when being viewed, an articulating bracket allows it to be easily pulled out of the cabinet and rotated to adjust for various seating locations.
We concealed the 3 main Focal front firing bookshelf style speakers and subwoofer, also located inside the cabinetry. The main speakers are slightly tilted inside the cabinet allowing for a natural presentation through the grilled cabinet doors. The matching Focal in-wall surround speakers  are located on the opposite wall and the grilles were painted to match.  All of the source and amplification components are located in a flush mounted cabinet inside the home owner's office.  Matthew did a beautiful job of programming  the  URC TRC-1280 remote control allowing the simplest method to select TV, music or movies.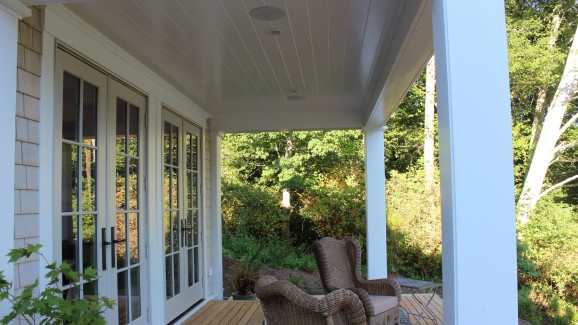 One of my favorite parts of this installation are the deck speakers. For this application we installed a pair of our Truaudio GG8 Ghost speakers. The deck speakers are controlled with the URC TPK 2000  in-wall touchscreen.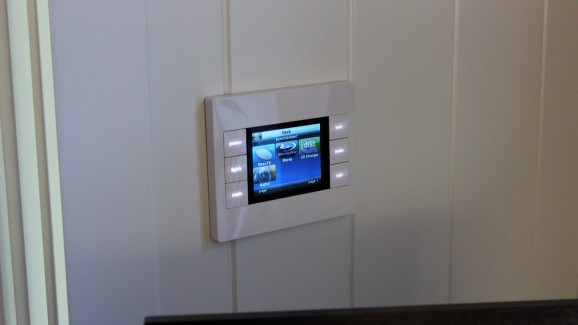 The home owners and I enjoyed a nice glass of wine, conversation and Tony Bennett while watching kayakers drift by. So beautiful.
We would like to thank Don and Pamela and our good friend and Master Builder Mr. Jim Hobbs for allowing us to participate in this truly beautiful dream home.